Nothing fishy about this fashion.
Posted on Thu August 17, 2023.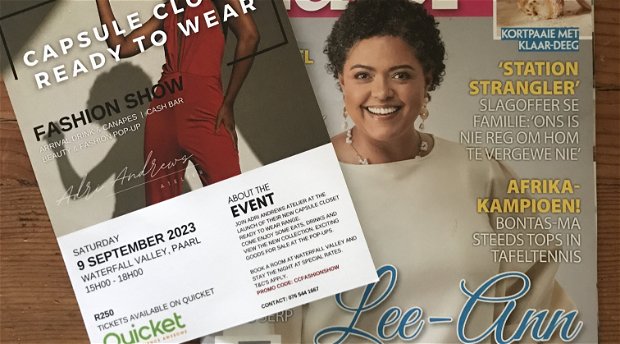 On the cover page of the latest Kuier Magazine find actress Lee-Ann van Rooi wearing a piece of the Capsule Closet ready to wear fashion created in Adri Andrews Atelier.
My favorite piece can be found on page 9. And if you are wondering how the heading fits into this, remember FISHY FêSHUNS  - The enduringly successful sitcom, with strong plot lines and hilarious characters ?
In Fishy Feshun actress Lee-Ann van Rooi played Rochelle who was part of the witty workforce.
In each episode FISHY FêSHUNS featured a new clothing line that needed completion within a deadline.
This seems to be the story of her life - for Adri Andrews head designer, patternmaker and creator of the Capsule Closet Ready to Wear collection. BUT there is so much more to this talented lady that does it all for a cause. Please join us for the first fashion show at Waterfall Valley formerly Cascade Country Manor and learn more about her cause.
Book your Ticket: Quicket